Greece Crisis: A Crisis of Capitalism by Ashutosh Kumar, M.A. (Economics). JNU
Post By PoliticIndia.com on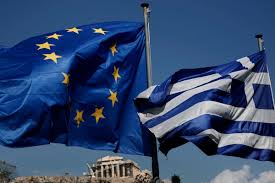 Greece officially joined the single currency Euro on January 1, 2001, with an official conversion rate of 340.75 drachmas to the euro. Although, Greece sought to join the euro in May 1998 but it did not qualify the criterion to enter into the Eurozone. The required criteria were to: (a) limiting public debt to 60% of a state's GDP. (b) limiting the annual budget deficit to -3% of GDP., (c) limiting inflation rate to not exceed 1.5 percentage points above average of the three member states with the lowest inflation rates, and (d)limiting nominal long-term interest rate to not exceed 2 percentage points above average of the three member states with lowest inflation. Greece was given membership in 2001 without fulfilling the above mentioned criterion after it's pledged to restrain spending and work toward achieving a budget surplus by the following year.
Genesis of Greece Crisis
The introduction of the euro as a common currency in Eurozone reduced trade costs among the Eurozone countries, increasing overall trade volume. However, labour costs increased more in peripheral countries such as Greece relative to core countries such as Germany, making Greek exports less competitive. Hosting the Olympics in 2004, this cost double of the original estimate of €4.5 billion, also made matters worse. Both the Greek trade deficit and budget deficit rose from 5% of GDP in 1999 to peak around 15% of GDP in the 2008–2009 periods.
By definition, a trade deficit requires capital inflow (mainly borrowing) to fund the deficit. As the inflow of money declined during the financial crisis in 2009, Greece was forced to reduce its budget deficit substantially. Countries facing such a sudden reversal in capital flows typically devalue their currencies to resume the inflow of capital; however, Greece was unable to do this, and so has instead suffered significant income (GDP) reduction, another form of devaluation.
Therefore, Government has only the obvious way to promote austerity measures, i.e., reducing spending, increasing taxes, halting additional taxes, and introducing measures for controlling and trying to stop tax evasion. In addition to this, he reduced the number of workers employed in the public sector, which of course in Greek fashion led to nationwide strikes.
Solution of the Crisis
In year 2010, there were fears of a possible default on Greece's debts. Greece needed to borrow €50 billion in 2010 just to service its debt, but banks and investors were worried that it might not be able to pay the money back. As a result, Greece's credit rating was downgraded, so it had to pay much higher interest on its borrowings than other Eurozone states.
Initially, the Greek Prime Minister, George Papandreou, insisted that Greece would not need a bailout from Eurozone states and he will solve this problem through austerity measures. He reformed the pension and tax systems to make sure wealthier people paid more, and to fight corruption and tax evasion. However, despite Greece's proposed public spending cuts, country's credit rating was repeatedly downgraded, eventually reaching 'junk-status' in April 2010.
First bailout package for Greece
In April 2010 Papandreou asked the EU partners to use a support mechanism to bailout the Greece. Accordingly, the first bailout package was signed on 3 May 2010 by the Greek Government under then-prime minister George Papandreou on one hand, and on the other hand by the European Commission on behalf of the Eurogroup, the European Central Bank (ECB) and the International Monetary Fund (IMF).
Despite initial reluctance, in April 2010, the 16 Eurozone countries agreed to lend Greece €30 billion worth of low interest loans during 2010. However, it quickly became apparent that Greece would need further funds and stronger financial backing from the EU. Therefore, on 2 May 2010, Eurozone states and the IMF agreed a bailout package for Greece in the form of a 'Stabilisation Mechanism. The fund was worth a total €110 billion, with Eurozone countries providing €80 billion and the rest (€30 billion) coming from the IMF. In this € 80 billion euro package, Germany contributed €22.4 billion which was largest amount from any EU member. As a consequence, Germany's Chancellor, Angela Merkel, faced anger from German voters and her party lost a key regional election in May 2010. The Stabilisation Mechanism loans had a much lower interest rate than private bank loans, but came with tough conditions. For Greece, these conditions included: allowing auditors from the IMF and the EU to assess its national budget and judge the success of its austerity measures; and imposing important structural changes to its economy on an annual basis for the duration of the loan.
Second bailout package 2012
Second bailout package for Greece was signed on 1 March 2012 by the Greek Government and the European Commission on behalf of the Eurogroup, the European Central Bank (ECB) and the International Monetary Fund (IMF).
In this second package, the loans the eurozone member-states committed were to be made through the European Financial Stability Facility (EFSF). The total commitment of the package was €164.5 billion. The EFSF was to contribute €144.7 billion, while the IMF was to contribute €19.8 billion. In lieu of this bailout package certain macroeconomic adjustment programmes (MAP) were imposed and overseen by the Troika (the tripartite committee led by the European Commission (Eurogroup) with the European Central Bank and the International Monetary Fund). The programmes consist of (1) fiscal reforms to "generate savings," that is, "austerity," (2) structural reforms to "enhance competitiveness and growth", such as privatisation of public assets and deregulation of the markets including the labour market, that is, "labour market flexibility," and 3) financial reforms to "enhance financial stability", such as banking regulations, and bank recapitalisation and resolution mechanisms.
Final bailout programme of 2015 and referendum
The January 2015 Greek legislative election was held in Greece. Left-wing party SYRIZA won a legislative election and this new Government started its journey on 26 January 2015. Its main objectives were to (1) write off 50% of its sovereign debt, (2) reverse austerity (3) reverse structural reforms, and (4) remain a eurozone member. Since then, Syriza have been negotiating with their creditors to no avail. Accordingly, a referendum to decide whether Greece was to accept the bailout conditions in the country's government-debt crisis proposed jointly by the European Commission (EC), the International Monetary Fund (IMF) and the European Central Bank (ECB), took place on 5 July 2015.
As a result of the referendum, the bailout conditions were rejected by a majority of over 61% to 39% approving, with the "No" vote winning in all of Greece's regions. However, Just a week after this referendum, Greece Government accepted a bailout package of 86 billion euros. In exchange for this package, Greece accepted reforms including significant pension adjustments, increases to value added taxes, an overhaul of its collective bargaining system, measures to liberalize its economy and tight limits on public spending. These conditions were against the referendum. The measures were branded "social genocide" by the speaker of Greek parliament Zoe Constantopoulou.
Why Greece crisis continue after these bailout packages?
As mentioned by Prof. Prabhat Patnaik, there are two fallacies in understanding the Greek situation. The first fallacy in the viewpoint propagated by dominant media that Greeks are profligate, lazy, etc. Greek crisis is fundamentally linked to the general world capitalist crisis. Whenever there is a recession in the world economy every country's export tends to go down and of course, when exports go down then a country cut down on the domestic level of economic activity because every country if they did the same then the recession would follow, which would be of more damaging to the economy. Now the Greek tends to do that because of the fact that there was a crisis in the world economy nonetheless they try to insulate their people against this crisis which is a very laudable objective. Therefore, this idea that there was spendthrift and therefore something wrong with the Greeks is a completely wrong idea. It is actually something wrong with the world capitalistic economy of which Greece is a victim.
The second fallacy is that even as things stand there is nothing to be done other than the fact that Greeks has to cut their social expenditure. Surplus economy like Germany, France should start expanding their economic activity. Suppose the Germans give substantial wage increase, there is substantial increase in government expenditure then the demand increases not only in its economy but in the entire Eurozone economy and that actually will gets Greeks out of the present crisis as well because their exports are going to increase. So the basic thing is that the surplus countries do not increase which would be actually a much better solution for all. But they don't do that instead, they ask the deficit countries to contract which is exactly they are doing.