Question of University Autonomy
Post By PoliticIndia.com on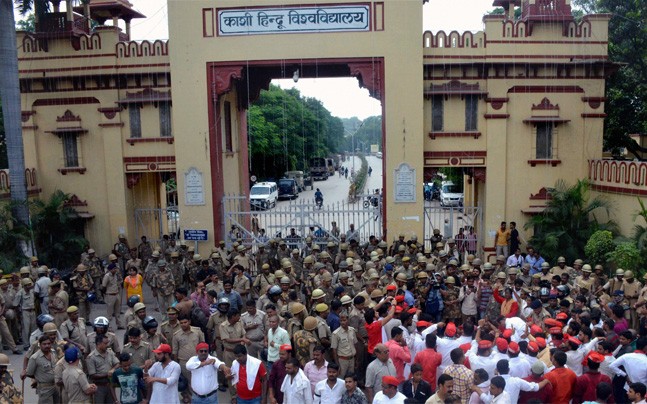 Khagendra Kumar
Chief Editir
The Indian democracy is losing the power to dissent and protest. Universities are important carrier of democracy anywhere in the world. Universities are the most important places for dissemination, acquisition, evaluation and creation of knowledge. Universities are meant for addressing issues of Polity, economy, education, science, technology, history, art and culture in a free and fearless environment. Government policies and programmes are studied and debated in the university. Many a opinions and research findings are opposed to the state policies, programmes , implementation strategy of welfare measures, budget allocation, priority of state concerns etc. Although the university is often opposed to the state on various counts but they are highly respected and a substantial proportion of public money is spent on their maintenance by most of the developed and developing countries world over. There is hardly any political interference in the functioning of the university in most of the developed country. The university has acquired the capability to lead the state and provide intellectual scaffolding for democracy to thrive.
In India the university has been robbed of their autonomy and throttled by the bureaucracy. Although in principle university is an autonomous body which takes decision through its well defined authorities but in practice it is captive of state or central government. In many a state universities, bureaucratic interference is so high that registrars and vice-chancellors of the university spend most of their time in appeasing concerned secretaries of different governmental departments. In case of many state universities, university officers and college principals are directly sent orders by secretaries and some cases district officials. Autonomy in several state universities is almost practically eroded.
Of late, the state is trying to stop dissent voices of teachers and students emanating from some of the best Indian universities. State through its coercive machinery has robed university campuses of liberal and argumentative environment. Vice-chancellors were tamed to speak in the voice of ruling party. From the recent incidents of JNU, Hyderabad University, Jadhavpur University and BHU it can be inferred that the students were not allowed to make peaceful protests. Making such protests were well within their constitutional rights.
We can imagine the state of affairs when young women are beaten in the university campus while protesting against the university administration in failing to protect them. If a woman student does not feel empowered in the university campus then it is doubtful that other places are safe for them. The recent focus of Indian universities on women safety, security and empowerment through inclusion of gender issues, teaching of gender studies, formation of gender sensitization cell, women's cell, ant ragging cell appear to be hollow practices having hardly any impact on the campuses. Some moral guards of the society preach women to live and behave as per their dictations. They still try to find out causes of women safety and security in their dress code, independent and other behaviours. It is shocking that such views are subscribed by high ranking administrators of many universities. Universities which are supposed to be the place of nurturing empowerment has been impoverished by the political and bureaucratic interference. It is high time for a university to stand up and take on retrogressive elements of our culture through shaping ways for change.
India is experiencing a new political culture where the ruling party is largely guided and managed by leaders having little or no grassroots experience. In fact personality of these leaders has not been shaped out of their direct interaction and involvement with the common people for a longer period. The identity of key leaders of a political party was gradually shaped during their involvement with the public for a fairly longer period of time. In the new political culture a number of key leaders have been brought to a political party due to their success in other professions. They have very poor perception of democratic welfare state. Their intolerant behavior, poor perception of dynamics of civil society and democracy, little regard for equity & equality and existing disparities and utter disrespect towards dignity of human life and other values have led to the emergence of new political culture. They judge values like commodities.
There is an urgent need to reshape the political culture of the country where leaders having ample grassroots experience and rich perception of democracy and welfare state should get a chance to rule the country. More specifically universities must be freed from all political and bureaucratic interference. The university vice-chancellors instead of bowing before politicians and bureaucrats must stand upright and allow divergent opinions and views bloom in the campuses.