Making University Deaf and Dumb
Post By PoliticIndia.com on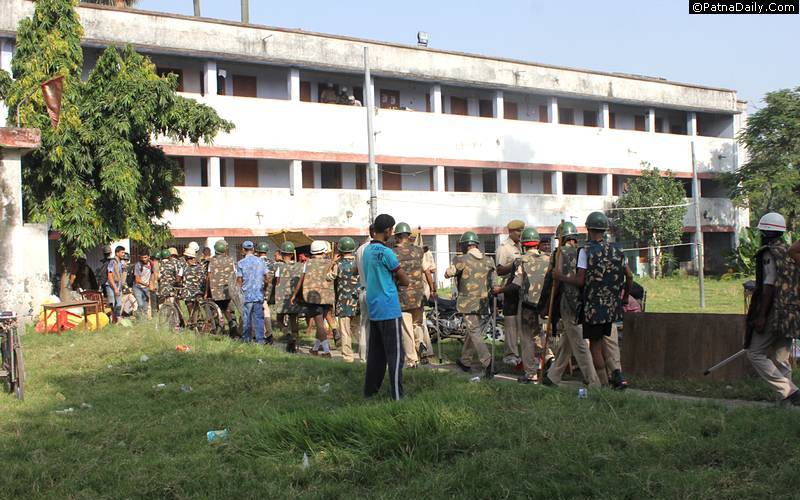 (source of the photograph -Patna Daily.Com)
KHAGENDRA KUMAR
Altough I have never supported the demand for converting Patna University into central university. The state's premier university must remain with the state. The first three universities Madras, Calcutta and Bombay preferred to be state universities rather to become central university. Moreover they command higher prestige than most of the central universities. Like state universities, now a days central universities too are struggling for their autonomy. Central universities like JNU, Hyderabad, and Jadhavpur that are widely known for their academic excellence and strong culture of debating local, regional, national & international issues, protesting anti people policies and programmes. These universities were enjoying autonomy to a great extent as most of the well known universities across the globe happen to enjoy. Of late a culture of silence is thurst upon almost all central and state universities of the country. They think universities should be apolitical. In fact they have decided to make university system deaf & dumb. Almost all well known & prestigious universities of the world have gone against establishment many a times on various issues. Still they are highly respected by the state and a huge amount is spent on them.

If university system of a country becomes instrument of passing passive knowledge and information for only passing exams and tests for getting jobs and continue to do so for some time, the country will see a sea of people worse than slaves.
We are passing through a crucial time where high resolution costly cameras are being fitted in shabby classrooms having little facilities for learners to monitor what is transpired in the classroom. The teacher will have to learn to deliver like a machine and deposit in the head of learners. The student will take out the deposited knowledge when required for a test.

If a teacher will try to dwell upon the issues critically making connect with real political, economic, educational, social & cultural problems of the learners, he/she may be victimized. A time is not so far away when the state will ban using critical pedagogy. If teaching is just considered mere passing of knowledge & information, it may be a reality that audios & videos of lectures will replace teachers. This replacement will be cost effective too.
Things have already srated. In a poor state like Bihar, the establishment has forced the teacher to remain silent. For all activities of the universities and colleges, verbal and or written dectation comes from the establishment. In the name of administration, quality teaching, monitoring, academic calender and excellence, the university is being robed off its autonomy and voice.
Almost all universities and colleges of Bihar are in bad and shabby state. A large number of public Institutions are not cleaned & washed for years and defaced. They have no arrangement for interrupted power supply. Most of the classrooms are neither fitted with PA system nor power projectors. Most of the Toilets are dirty. Classrooms are devoid of reasonable furniture. The university and college libraries are yet to be modernized. Most of them have lost their relevance.
It is known to all that there is great dearth of teachers in colleges and universities. Apponitment of teachers are highly irregular. In the last two decades some appointments were done In 1996 and 2003. Currently process of third appointment is continuing for the last three years. A good number of colleges run academic programmes from +2 to postgraduate level. The state is still unable to make adequate arrangement for +2 education in schools & detach it from colleges. In many a colleges there is single teacher for teaching a subject at +2, UG and PG levels. But colleges are forced to get assessed and accrediated by NAAC. Huge money is siphoned on conducting NAAC seminars and giving unethical advice to prepare manipulated reports. NAAC requires honest exercise for preparation of self assessment report and submission of required documents for validation of information furnished and physical verification. As far as preparation is concerned, all the information is there on NAAC website and designated teachers' committee can go through the information and guidelines and can complete the task.
We all know the shabby state of affairs in our public institutions. The establishment can provide necessary physical and human resources & required autonomy so that these institutions can be able to provide education of comparable quality to our students.
Finally teachers, other employees, students and officers of the public universities must raise questions against the apathetic establishment and imposition of dictat by bureucracy nurtured by the establishment. The university must protect the power of its various authrities like Academic Council, Senate, Syndicate etc. and statutory bodies. The university officers should not allow the bureucracy to lower down their own dignity and prestige of their offices. It is an established fact that no person can rise the status of a teacher. Hence teachers should come forward to liberate education.