MEANING OF BJP VICTORY THROUGH A CHAIWALA OF BACKWARD COMMUNITY
Post By PoliticIndia.com on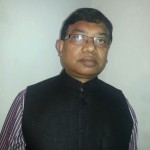 Khagendra Kumar, Chief Editor
BJP won the Loksabha general election 2014 with thumping majority. BJP alone got absolute majority with 282 seats and total seat share of NDA is 333. The Indian National Congress was obliterated . It got just 48 seats and total seats for UPA is just 61. INC never performed so badly before. BJP acquired the distinction of being the first political party other than congress that ever got absolute majority in a Loksabha general election after independence. BJP completely dominated Hindi heartland and west. The party made it presence all over India including northeast and J&K.
All this could happen in the leadership of Narendra Modi. What BJP could not achieve in many years of leadership of Atal Behari Bajpai and L.K. Advani , Narendra Modi achieved it. Hype created by Advani's rath-yatra was much publicized affair of Indian politics than the hype created by Modi through his speeches which he delivered in hundreds after his projection as prime ministerial candidate few months ahead of the election across the country. Through his powerful and emphatic speeches in sabhas and rallies across the country he was successful in making the common masses believe that the coming general election will be providing two only to options- himself and Rahul Gandhi. His carefully crafted speeches never gave any importance to old BJP agenda. He spent most his time in criticizing congress governance, scams, price hike etc. and made responsible Sonia and Rahul Gandhi. He always emphasized that Manmohan Singh was a dummy PM who acted at the behest of mother-son duo. In fact he was successful in creating a situation where common masses started believing that the next election is fought between Narendra Modi and Rahul Gandhi. Personalities were more important than issues. He was fully aware that Rahul can never be a match to his forceful oratory. Modi Raj and India like Gujrat became the unwritten manifesto of BJP.
Perhaps Modi had a realization that one of the important reasons of alienation of the common and marginal masses from the BJP was its elitist and urban character. Upper caste domination in BJP leadership and their style of politicking never appealed the vast majority of under privileged sections of the society. Hype created by Kamandal politics could not sustain as the BJP never appeared enthusiastic in taking issues of protective discrimination badly required for compensating age old discrimination of backward castes. Narendra Bhai Modi having a rich experience of leading ordinary life and facing all the crises of people standing at the margin of Indian society could easily read the pulse and took curative measures in projecting himself as one of the victims among marginal people of the Indian society. He forcefully and proudly reminded people of his struggle as a TEA VENDOR and agony of being a member of BACKWARD CLASS. I have every reason to believe that for all these strategies he did not depend on party ideologues . In fact Jaitley type ideologues of the party having indirect experiences of India especially rural India could never make such a perfect strategy.
His strategy made wonders. The poor and backward classes who constituted the vast majority of the country took the Modi as one from amongst them and believed his promises for all-round inclusive development. In fact India has never seen a PM from backward caste also became an issue for many of them. The apprehension among backward classes that Modi may be sidelined if the BJP does not get absolute majority also altered them to do their best to get BJP absolute majority . In fact Modi has given a new dimension to the BJP politics in which left- outs of the society aspire to play the key role in BJP politics. The BJP cannot afford to rule with the help of upper classes of the society who are used to keep marginals at safe distance. Their approach, behavior and utterances may be subtle but it is not difficult to smell insensitiveness towards marginals of the society.
It is Modi's victory. Victory of a leader who has struggled and experienced what a common and marginal person means. The BJP has attained absolute majority for the first time on the promises of Modi. Now the most daunting task for Narendra Bhai Modi would be to reform the BJP so that issue of social justice and equality becomes the cardinal point of development. He must start the reform with the formation of his council of ministers. He must be aware of status-coists of the party and organization having close association and impact on the party and try to take on them. If he could do it, he will make India of dream, good days ahead for all especially poor and common men.